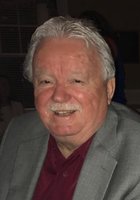 Louis P. "Lou" Tomeo, Sr.
.
Louis (Lou) Pasquale Tomeo Sr. passed away unexpectedly Saturday, January 6, 2018. He was 76. Born in Philadelphia to Louis Tomeo and Catherine Eleanor Percell, he was a loving and devoted patriarch of his large extended family. In addition to his Mother and Father, Lou was preceded in his passing by his Sister, Shirley (Tomeo) Brady. Lou is survived by his partner, Anne Whartenby; and children, Louis Tomeo Jr. (Tara), Joseph Tomeo (Carolann), Jocelyn Tumolo (Ron), Tina Schulke (Dan), Robert Whartenby (Dianna), Brian Whartenby (Tammy). Also surviving are 14 grandchildren, Allison, David, Krystin, Brianna, Danielle, Joey, Anthony, Daniel, Nicholas, Madison, Alexander, Natalee, Aidan and MacKenzie.
Lou is a veteran of the Vietnam War and served three years with honor in the 16th Armor Group while stationed in South Korea. His strong love of Country and sense of duty led to distinguished recognition as an expert rifleman and the National Defense Service medal. Lou was a dedicated Philadelphia sports fan and avid fisherman and while enjoying either activity you had to keep the children's ears cupped as he commented on the one that kept getting away.
We are saddened by his passing and comforted in knowing that he was loved by everyone who met him. Lou's celebration of life and passing to the best fishing spot in the sky will take place Friday, January 12th at St. Ann's, 2901 Atlantic Ave. Wildwood NJ. All are welcome to attend the visitation from 10:30 am to 11:45 am followed by a funeral mass at Noon. In lieu of flowers and gifts, contributions may be made in Lou's name online at Give.CHOP.edu or checks can be made to "CHOP Foundation," P.O. Box 781352, Philadelphia PA 19178. Condolences may be made at ingersollgreenwoodfh.com