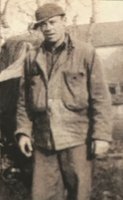 Louis J "Lou" Bishop
Louis J. Bishop "Lou", 98 of North Wildwood, NJ Passed away Tuesday, April 9, 2018. Lou was a World War II decorated veteran serving in the U.S. Army Combat Infantry and a former Member of the Anglesea Volunteer Fire Company. He was owner and operator of "Bishop's Highsteps Bar" for many years in North Wildwood. He graduated from Wildwood High School Class of 1940.
He is survived by his wife, Peggy, two sons, Louis J. Bishop, Jr. amd Timothy Bishop.
Service 11 am Monday, April 16, 2018, with a viewing from 10 am at the Ingersoll-Greenwood Funeral Home , North Wildwood, NJ. Burial in the Cape May County Veterans Cemetery, Middle Township, NJ
In lieu of flowers , please make donations in his name to the Greater Wildwood Elks Club Lodge # 1896, Veterans Fund, 109 W. 1st Ave., North Wildwood, NJ 08260