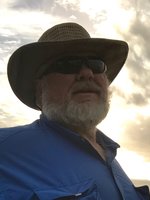 Samuel C "Sam" Bradway
~~Samuel C. Bradway, 63, of Green Creek, NJ. Passed away on Saturday, September, 23, 2017 surrounded by his loving family. Sam was a life resident of Cape May County, and was a family man and devoted father and will be remembered as a bright shining light in the Communities and Churches he served.

Sam was the former Police Chief of West Wildwood, NJ, a Captain and Assistant Chief of the West Wildwood Volunteer Fire Company, active member of the Mason's and former member of the Cape May County FOP Lodge # 7.

A memorial Service will be held on Saturday, September 30, 2017, at 10 am at the Church of the Nazarene, 446 Seashore Road, Erma, NJ . A Celebration of Life to follow. All are welcome to attend in casual and cheerful attire.
Sam is predeceased by his brother, Warren Bradway.
He is survived by his adoring wife of 37 years, Helena Bradway, his five children, Maribel, Nicolas ( Danielle ), Timothy ( Lauren ), Elizabeth and Merrill, 3 grandchildren, a brother, Edwin Bradway, and a sister, Barbara ( Cookie ) Novsak .
In lieu of flowers family requests donations in his name to "Erma Camp" , 470 Seashore Road, Cape May, NJ 08204 Condolences at ingersollgreenwoodfh.com