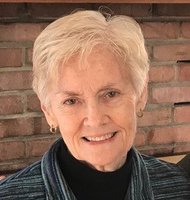 Mary Elizabeth Carlson
Mary E Carlson, 77, of North Wildwood died surrounded by family on Monday, April 8th, 2019. Mary was truly a citizen of the Wildwoods, growing up in Wildwood Crest, owning Carlson's Fish Market in Wildwood and living in North Wildwood where she and her husband, John (Porkey), raised their family.
She and Porkey met in a study hall their freshman year at Wildwood High and quickly developed a lifetime devotion to each other. Mary was active in the community, and supported organizations that meant much to her, including Warrior 50 and Saint Simeon's Church. One of the biggest things she supported, however, was Porkey and his next plan or project. She enjoyed walking on the boardwalk/seawall with friends and playing Quizzo around town. She also loved to travel and used to say that she was lucky to have had the opportunity to visit all the places she did. In fact, she was always happy to count her blessings in life. These blessings included those most important to her, her family and close friends. Mary attended as many of her grandchildren's school activities and sports as she could, and she loved to play games with them. She will be missed by everyone who knew her.
Mary was predeceased by her husband, Porkey; daughter, Christine; granddaughter Kate; and brother, Daniel McBride. She is survived by her children, Beth (Mark Messer), Karen (Darb Buchanan), and John (Korri) and grandchildren, Jake and Abby Messer, Tom and Zach Buchanan, and Emma, Johnny, and Owen Carlson. Her parents were Olive and Archibald McBride, of Wildwood Crest and her beloved in-laws were John and Clara Carlson of North Wildwood and brother-in-law, Carl (Loady) of Wildwood.
A celebration of Mary's life will be held at Saint Simeon's Church in North Wildwood, NJ on Saturday April 13th, 2019. Visitation at 3:00pm, Prayer Service at 4pm. Interment will be private.In lieu of flowers, please donate to a charity of your choice in Mary's memory. Condolences at ingersollgreenwoodfh.com