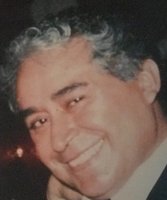 Gerardo T Gomez
It is with great sadness that the family of Gerardo T. Gomez announces his passing on Saturday, April 27th 2019, at the age of 85 years old he was Born in Santiago Del Estero, Argentina. Mr. Gomez worked for Englewood Hospital where he was the Chief Engineer for 21 years until his retirement in 1997. He retired to Wildwood, NJ to live out the rest of his years.

Gerardo will be lovingly remembered by his wife of 59 years Lidia and his children Liliana and Gerardo. He will also be fondly remembered by his 5 grandchildren Sofia, Gabriella, Jeanine, David and Michael, by his sister Lola, daughter-in-law Lilian and son-in-law Miguel.

A funeral service in Memory of Gerardo T. Gomez will be held on Monday, April 29th 2019 at 11:30AM at the Ingersoll-Greenwood Funeral Home 1201 Central Ave, North Wildwood, NJ where friends may call from 10:00am. .