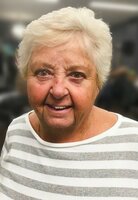 Kathleen Mary Flanagan
Kathleen Mary Flanagan (Kathie, The Nan) age 74, of Havertown, PA passed away on July 7, 2022, in Wildwood Crest, NJ after a courageous two-year battle with leukemia.
She is survived by her brother Tim Flanagan (Carol) and her sister Patricia Winkowski; her children Katie McClain (Dave), Jay Maher, and Tricia Hein (Greg). Along with her 10 grandchildren Alexys, David, Abigail, Lauren, Matthew, Evelyn, Brody, Thomas, Nora, & Teagan.She was a wonderful mother, grandmother and friend who was loved by all. She leaves behind many hearts filled with unending memories for her family and friends whom she supported endlessly.
She was a lifelong resident of Havertown, PA. Kathleen worked as a nurse for almost 50 years at several hospitals and surgery centers in her surrounding community. She enjoyed volunteering in a variety of ways to help support the people of her community. To know her was to love her, as she was one of a kind in her humorous, witty, Irish ways.A memorial celebration will be held on July 21, 2022, at Saint John Neumann Catholic Church in Bryn Mawr, PA. Friends and family are welcome to gather at 9:30am. Mass will follow the visitation at 10:30am.
In lieu of flowers Kathleen has asked for donations to the Leukemia Society, or the Abramson Cancer Center.