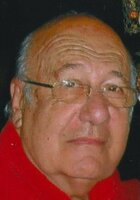 Nazareno J. Regalbuto
Nazareno J. Regalbuto (Naz) of Wildwood Crest, NJ passed away on August 8, 2022. He was born in Vineland, NJ to Nazareno (Reno) and Georgina (Pellerito) Regalbuto. He has been a local resident for 68 years where he attended Wildwood Catholic High School and made many of his lifelong friends. He is survived by his wife Cathy. They were honored to be the first wedding ceremony performed by Naz's friend, Fr. Michael D'Amico after his ordination to the priesthood in 1964. He is also survived by his three sons: Charles (Nicole), Robert (Danielle) and Michael, Granddaughters Jordan (L.J.) Raniszewski, Taylor (John) Regalbuto and Antonia Regalbuto plus many cousins including Cheryl Regalbuto.
He was a police officer for the city of Wildwood from October, 1966 to January, 1973. He was also a Real Estate Broker, Builder and a Motel/owner operator of the Le Voyageur, Newport, Ala Kai and Regal Plaza Motels, plus builder and resident of the Atrium Condominium in Wildwood Crest. He bred, trained and raced horses. He was most proud of Regal Beaut Oh who won the Shore Patrol Handicap at the Meadowlands in September, 1991.
Services will be held Thursday, August 18, 2022 at the Ingersoll-Greenwood Funeral Home, 1201 Central Avenue, North Wildwood. Friends may call from 10 am to 12 noon with a small service following. Interment will be private. In lieu of flowers, please send donations in his memory to the Brendan Borek Endowed Fund, c/o CHOP Foundation, PO Box 782352, Phila., PA 19178-1352 who supported his granddaughter in her successful battle with Leukemia.