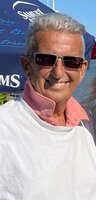 John Devlin
John Devlin of Wildwood Crest passed away peacefully on Wednesday, August 10, 2022. John is predeceased by his parents, Liguori and Patrick and his sister, Colette.
Coming to the states from Belfast, Northern Ireland, John gratefully made Wildwood Crest his forever home. He bartended at Neil's Steak and Oyster House and Season's until he relocated to the Shamrock. He proudly married Darleen 32 years ago and became parents to Aidan and Maddison. John worked for the Borough of Wildwood Crest Public Works and Public Safety for many years. He became a US citizen on May 2, 2014 and was so proud to hold our American flag. John made an unbelievable number of friends in record time without even trying, became a member of everyone's family no matter what their nationality, and took care of so many family, friends and strangers.
He made us all laugh until our cheeks hurt! John loved traveling with family, chatting on the phone with his brothers on a regular basis where they typically laughed, solved the world's problems, complimented each other's lives, and told them he loved them at the end of each call. John had a passion for reading, camping out on the beach with his big green Roleez cart and a cooler for hours where he is surely missed by so many summer visitors. We know what John meant to you. Just imagine what you meant to him.
Darleen, Maddison and Miles, Aidan and Emmie, brothers Paul, Aidan, Greg (Clea and Jessica) and Mark (Maeve) and extended Tomlin and Devlin family are all holding him in their hearts.
A service will be held 11am Sunday August 14th at the Ingersoll-Greenwood Funeral Home, 1201 Central Ave. North Wildwood, NJ where friends may call from 9 AM. John wants to be sent off on the beach and this will be announced at a later date.
Condolences may be sent to ingersollgreenwoodfh.com