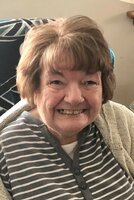 Joanne H. Lafferty
Joanne Helen Lafferty, (nee Quirk), the indomitable "Delta Dawn," made her final curtain call at her North Wildwood home on September 5th, 2022. She was 78 years old and loved and admired by many for her vivacity, strength of spirit and commitment to family.
Joanne was born in Philadelphia to Joseph and Grace Quirk and attended St. Benedict's Elementary School and Cardinal Dougherty High School, where she forged lifelong friendships and an unshakable faith that sustained her through many hardships, including her father's death when she was a young girl, a stroke in midlife that impaired her mobility and speech, cancer, and the death of her beloved husband, Brian, in 2019. She was known for singing her way through life's challenges with tenacity, good humor and a glass of chardonnay.
Joanne embraced her role at the center of her bustling clan, and she took great pride and joy in the accomplishments of each of her six children, their spouses (Maureen/Troy Cawley; Colleen Fitzpatrick; Kathy/MJ Lewin; Megan/Geoff Rogers; Brian, Jr; Joanne/Joe Cray) and her 15 grandchildren (Emmett, Grace, Anna, Jackson, Maeve, Jack, Seamus, Jersey, Molly, Tallula, Kate, Megan, Riley, Olive and Nora). She will be sorely missed by all, including her sisters, Colleen and Gail, her brothers-in-law, nieces, nephews, and of course her granddogs: Pete, Sully, Buddy, HoneyBear, Moose and especially Frances. She was strengthened and comforted by all of the friends and family who loved and supported her throughout her recent illness, and the family extends their heartfelt gratitude to Tracy McGann for her patient and steadfast care.
Mass of Christian Burial will be celebrated at 11am on Saturday, Sept.10th at St. Ann's Church, 2900 Atlantic Avenue, Wildwood, NJ. Friends may call before the service from 10-10:45 or Friday, Sept. 9 from 7-9 pm at Ingersoll Greenwood Funeral Home, 1201 Central Ave. Internment will be at St. Mary's Cemetery, Lower Township, NJ, followed by lunch at Anglesea Pub. Donations in lieu of flowers to Wildwood Catholic Academy (https://www.wildwoodcatholicacademy.org/apps/pages/annual-appeal) are appreciated. Condolences can be made ingersollgreenwoodfh.com