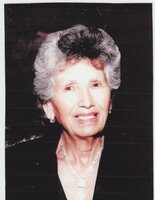 Bridget Mattera
Bridget (Calise) Mattera, 93, of North Wildwood, NJ, passed away on 9/23/2022. She was born to Dominic and Restituta Calise in Ocean City, NJ, in 1929.
She was raised in Italy from the age of three with her siblings, Matthew, John, Nicholas, Ann and Leonardo during the Great Depression, and returned to the United States in 1950, where she met the love of her life, Orlando Mattera. They married in 1952 and had three children who are survived, Michael Sr., Dominick (Deborah Mattera) and Mary Mattera.
She is survived by her grandchildren, Hollie and (Anson) Bolinger, Nicole Mattera and (Derick Leninger), Michael Mattera Jr., and Deborah (Mattera) and Daniel Realm.
She is survived by her great-grandchildren Arya Bolinger, Brian Juzaitis, Marisa Leninger, Michael Leninger, Ryleigh Leninger, Sterling Leninger, Michael Mattera III, Robert Mattera and Joseph Mattera.
She is survived by a great-great grandson, Jackson.
Bridget was a member of the Local 127 International Ladies' Garment Worker's Union when she came to America. She was very devoted to her faith and was an avid member of Saint Ann's Church in Wildwood where she attended services. Together her and her husband ran a family-owned business with apartments and storefronts in Wildwood until her husband passed away in 1975. Bridget continued to run the business, and in 2012, at age 82, was presented a recognition award by city officials for keeping her property pristine clean and to code. She was sited in the Wildwood Leader and The Press of Atlantic City.
Bridget enjoyed baking, building, cleaning, cooking, crocheting, gardening, and helping others. Bridget and her husband, a cement contractor, built their home in their early twenties, where she resided for the rest of her life. Bridget loved baking cookies and cooking big dinners for family, especially on her favorite holiday, Christmas. Bridget cherished both family and friends, and said the most important element in life is "love". In one word, Bridget was "amazing". We'll never forget you.
Mass of Christian Burial will be celebrated 11am Thursday Sept. 29, 2022 at St. Ann's Church, 2900 Atlantic Ave., Wildwood, NJ where friends may call from 10 to 10:45 Am. Interment will be in St. Mary's Cemetery, Lower Township, NJ.
A special thanks to the staff at Cape Regional Medical Center, Penn Presbyterian Hospital, North Cape Rehabilitation Center, Holy Redeemer, the Ambulance workers, the doctors and priests who brought her healing and comfort, and to all of those who held a special place in her heart. The Family request donations in her name to the St. Jude Childrens Research Hospital in Memphis , Tenn.
Condolences may be sent to ingersollgreenwoodfh.com