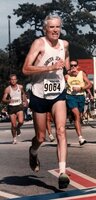 Michael Francis Hayney
Michael Francis Hayney, 84, of Wildwood, NJ and formerly of Treasure Island, FL and Fairview, Camden, NJ passed away on October 23, 2022. Husband of Dolores "Lady D" (nee Wawrzyniak) for 54 years, father of Francis Vincent Hayney (Brittany) and the late Patrick Lincoln Hayney. Old Grey was an honorary father to Mario Olsen (Nikki) and lifelong friend of Mike O'Brien, Don Harrison and the late Frank Angemi, Vince Cuneo, Bob Brader, and cousin George Hess.
Mike was a marathon runner and completed 21 marathons and even came in first place in a Philadelphia marathon. He ran in many Philadelphia and New Jersey area races and was known as Superman by the newsstand near the YMCA in Philadelphia.
Mickey also loved baseball and working with statistics and prognosticating the outcome of the games.
Mr. Hayney was well read in Philosophy, History, Politics, and the Classics of Ancient Greece. He encouraged reading and education in others: "Always bring a book!"
He was a good husband, father, and friend and honest as the day is long. Generous to anyone in need.
He served in the U.S. Army in Germany from 1957 to 1959 in "The Big Red One" with the artillery, using the slide rule instead of computer to pinpoint ballistics. Always the athlete, he played basketball at Yorkship playground and on the Army team in Germany.
He graduated from St. Joan of Arc and St. Joseph's High School, class of 1957, in Camden, NJ.
A memorial will be held later at the convenience of the family. Contributions in his memory to Survivors of Cancer, PO Box 266, Wildwood, NJ 08260 or Love of Linda Cancer Fund, PO Box 1053, Wildwood, NJ 08260. Condolences may be sent to ingersollgreenwoodfh.com