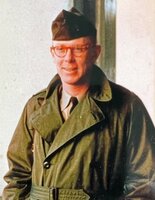 William Jerome Callahan
William J. Callahan
Bill Callahan passed away peacefully on December 15, 2022, at age 92. He was born in Wildwood, New Jersey, and lived in Cape May County for his entire life. He is survived by his wife of 66 years Alice, his son William and daughter-in-law Paige, his daughter Mary and partner Marc, daughter Jean, daughter-in-law Kathy Clark, grandchildren Liam, Soren, Owen and Lola Callahan and Ashley, Tiffany, and Joey Narciso. His sons Michael and James predeceased him.
Bill began his career running his family business, the Atlantic Tobacco Company. He was a successful entrepreneur with business ventures in hospitality, restaurants, and real estate over the years. Bill was a pilot before he could drive a car. He had a lifelong love of aviation and held his pilot's license for 54 years. His kids remember flying with him in an open-cockpit biplane (the Shamrock) in the Summer. He would roll the plane, so we could look down at our island and wave to friends.
In the early 50s, Bill served in the United States army. He was a proud veteran and member of his local VFW post. While serving in Japan he made lifelong friends. He brought a little bit of Japan to Wildwood by building "the Japanese House" on Seaview Avenue. Bill traveled all over the world, embracing every opportunity to see a new place, make new friends, and have new adventures.
We have been so touched to hear from so many people about his many acts of kindness, large and small. He was generous with his time in his quiet understated way. He loved being a mentor, offering advice and support, and sharing his wisdom with others.
Bill was a devoted husband and father, and a friend to all. He was the calm, kind, loving center of our family. The Callahan kids could be a handful, but whenever we found ourselves in trouble, no matter how bad it was, Dad would always stay calm and help us find our way through. He lived his life with love, grace, and humor. We will miss him more than we can say.
Mass will be celebrated at 11 am, Tuesday, December 27, 2022, at Saint Ann's Church, 2900 Atlantic Ave., Wildwood where friends may call from 10 to 10:45 AM. Burial will immediately follow the service at St. Mary's Cemetary at 1056 Seashore Road, Cape May.
Condolences may be sent to ingersollgreenwoodfh.com