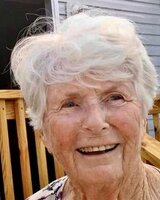 Helen R. de La Tour
Helen R. de La Tour nee (Buckley) of Wildwood, NJ passed away on January 4th, 2023. Born May 19th, 1932 to the late James and Mary Buckley in Newtown Square, Pennsylvania. Helen was a longtime resident of the Shawcrest community where she enjoyed gardening, baking, and supporting her parish at St. Ann Catholic Church in Wildwood.

She is preceded in death by Charles T. de La Tour (Husband) and C. Thomas de La Tour (Son). Survived by 5 children: Francine de La Tour, Joseph de La Tour, John (Colleen) de La Tour, Helen de La Tour and William (Elizabeth) de La Tour; as well as her 5 grandchildren: Kevin (Allison) de La Tour, Rose de La Tour, Mason de La Tour, Josephine de La Tour, and Charley de La Tour.

She will be remembered for being a loving and caring mother and grandmother. As well as a devote Catholic during her long and amazing life.

Mass of Christian burial will be celebrated 11am Friday Jan. 13th at St. Ann's Church, 2900 Atlantic Ave., Wildwood, NJ where friends may call from 10 to 10:45 am in the church.
Burial will take place Saturday Jan. 14th in Delaware County PA.

We leave Helen with a verse from John 14, Verse 27: "Peace I leave with you, my peace I give unto you: not as the world giveth, give I unto you. Let not your heart be troubled, neither let it be afraid."
Condolences may be sent to ingersollgreenwoodfh.com