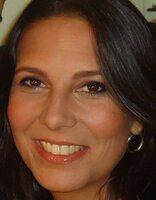 Jennifer Romeo Campanella
Jennifer Romeo Campanella, age 52 of North Cape May gained her wings on January 10, 2023. Jen was born in Brooklyn, NY to Chu Colon & Rosie Delgado and grew up in Hatillo, Puerto Rico. Jen moved to Wildwood when she was 18 years old and resided there for the rest of her life.
Jen began her career with the city of Wildwood in 1991 as a parking enforcement officer. She then transferred to a civilian position in the police records office, followed by a transfer to a position in the Wildwood Municipal Court. Jen's family and friends were so proud when she was named Wildwood Municipal Court Administrator in 2021.
Jennifer was predeceased by her paternal grandparents Get Colón and Serafina Reyes, maternal grandparents Tití Delgado and Librada Moya, parents Chu Colon and Rosie Delgado, her in-laws Dominic and Beverly Romeo, her in-laws Sabatino and Concetta Pagano, husband Joey Romeo, cousin Emilio (Papito) Figueroa, brother Jose R.(Joey) Gonzalez and granddaughter Selah Katib.
Jen leaves behind to celebrate her memory, her husband Al Campanella, her children Karleen (Josh), Mia (Jawaun), Jeff, Gabe (Jazmin), Amanda, her grandchildren Kam, Analeigh, Addie, Alessia, Mila, Sophia, Sarah, Janiesse, Fran, Xzavier, Sophia, Elias. Her sister Lillian (Lilly) Brother and sister in-laws David and Jessica Romeo, Chris and Danielle Romeo, and Dominic Romeo JR. Nieces and nephews Camila, Adriana, Dominic, Hailiegh, Daniella, Christopher.
Jennifer is the most wonderful wife, mother, abu, sister, friend, and co-worker anyone could ever have asked for. She made friends with everyone she met and always made a positive impact. She will be, and is sadly missed by everyone already. Everyone that ever came in contact with her will always remember her.
Te amo mucho más.
Mass of Christian Burial will be celebrated 11am Saturday Jan. 14th at St. Ann's Church, 2900 Atlantic Ave., Wildwood, NJ where friends may call from 10 to 10:45 am in the church.
In lieu of flowers, consider a donation to Alzheimer's Association act.alz.org or Breast Cancer Awareness Research at Give.bcrf.org
Condolences may be sent to ingersollgreenwoodfh.com