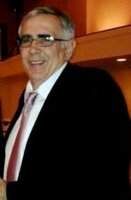 David J. Goldstein
On Wednesday, January 11, 2023 David J. Goldstein, an adored family man, passed away with his family by his side. He was 75 years young. Born to Marty and Pearl Goldstein, Dave is survived by his wife Marilyn, children Mike (Kelly) and Becca (Phil), and his grandchildren (Madison, Brooke and Olivia). He is also survived by his older brother Fred, who was very instrumental throughout Dave's life.
Dave was born to a family of entrepreneurs at Temple Pharmacy in Mt. Airy. His childhood in Philadelphia was spent playing sports outside and going to the beach in Atlantic City every summer. In high school he was part of the Germantown Public League Champion Basketball Team in 1964 that won at The Palestra.
After graduating Temple University, he followed his love for sports and went on to teach Health and Physical Education at Martin Luther King High School in Philadelphia, also coaching the football and wrestling teams with his great friend and legendary coach Bob Ferber.
Pursuing a teaching career gave Dave the flexibility to spend his summers in the Wildwoods, where he spent his summers as a lifeguard and as a bouncer for the legendary Shamrock Bar. After meeting his wife, he decided to move to Wildwood Crest full time and left the teaching world to help operate the family business at The Attache Motel. More importantly, he just wanted to focus on spending quality time with his family.
In 2002, after the family business was sold, he decided to go back to his original love of teaching the inner-city youth in Philadelphia at Tilden Middle School. His impact on his students was deep, and he kept in touch with many as they became adults themselves. Dave retired from 23 years of teaching on June 24th, 2013.
Throughout retirement Dave still kept himself quite busy, launching reading campaigns for children and building Anchor Advertising Agency as CEO. When he wasn't working, you could normally find Dave grabbing a coffee at Wawa, with his big black advertising truck, engaging in conversation with anyone that would listen.
Dave's love was unconditional, no matter who he was speaking to. He'd give the shirt off his back and the last penny to his name to anyone who needed it. The Goldstein's front door was always open, and everyone was always welcomed with open arms. Whether they needed to talk or a meal, their home was always full of love. A lot of Dave's character can be attributed to his upbringing in Mt. Airy where he was lucky enough to grow up with a large family that remained close with one another.
Outside of work, Dave's biggest hobbies were sports and photography. Dave loved to use his big camera to take pictures, whether it was of Allen Iverson at a Sixers game, or his children playing in their local events, each picture was priceless to him. He loved capturing all of the excitement and reliving those moments wherever he was. He leaves behind a storage unit( or two) full of these pictures, and his family is looking forward to finally seeing all of the memories he spent a lifetime compiling.
Please come join Dave in smelling the Wildwood salt air, and see just how many people's lives he touched, on Wednesday, January 18th at Beth Judah Temple at 10:30 a.m. Graveside services are planned at Alliance Cemetery at 1:00 p.m. In lieu of flowers please consider making donations to NextGen30 (nextgen30.com) or Lunch with Lynch (lunchwithlynch.com) in David's Honor