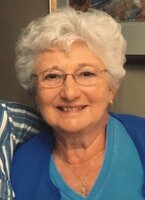 Eileen M. Sonntag
Eileen M. Sonntag, 87, of Petersburg, passed peacefully into the arms of her Savior on February 23, 2023.
She was pre-deceased by Harry, her dear husband of 66 years. She is survived by her children; Donald and wife Teri, Deborah Lowrey and husband Dave, David and wife Maria. Her grandchildren include; Keith Lowrey and wife Caren, Lynnae Trematerra and husband Jimmy, Stephanie Borgard and husband Brian, Staci Hadel and husband Ben.
The family is also blessed to have seven great grandchildren, who will fondly recall time spent at "Nana's" house at the beach.
Born in Albany, NY on May 29, 1935, Eileen was an only child, and adored her parents. She suffered a great loss when her father passed away when she was only 30 years old.
She and her family attended Cranford Alliance Church, where she came to faith in the Lord as an adolescent.
She graduated from Roselle Park (NJ) High School in 1953, and shortly after met Harry. They were married in 1955.
First residing in Norfolk, VA while Harry was in the Navy, they later moved back home to Union County, NJ finally settling in Cranford.
She and Harry also brought their family to Cranford Alliance Church, where Eileen served as a Deaconess, sang in the choir, taught Sunday School and was on the Missions Committee.
Having the gift of hospitality, Eileen often enjoyed welcoming people into her home for Christian fellowship, and of course- savoring her delectable dinners, complete with hors d'oeuvres, punch and mouth-watering desserts!
In fact, she excelled and was very talented in homemaking arts such as knitting, crochet and sewing. She made beautiful quilts as cherished gifts, and the Piece de Resistance was when she made her daughter Deborah's wedding gown by hand!
Eileen also had a knack for figures, and she worked faithfully as a bookkeeper at Horan Lumber in Cranford for 16 years.
In 1974, with her son Donald's health challenged by scoliosis, and frustrated by the lack of community support, Eileen took action, and founded the Scoliosis Society of New Jersey.
Summers were spent at the beach with family, in Ocean City, NJ. Eileen was exceedingly fond of travel, as she and Harry enjoyed trips and cruises with friends and family alike.
They enjoyed the Shore so much, that in 1995, they retired to Petersburg in Cape May County. There, they settled at their new church home, Linwood Community Church, where she sang in the choir and both she and Harry continued to serve the Lord.
Eileen loved her family, and it gave her great joy when her children, grandchildren and great-grandchildren were able to visit her and Harry.
A Memorial Service followed by a Luncheon will be held on Monday, March 13th at 11am, at Linwood Community Church, 1838 Shore Rd, Linwood, NJ 08221. There will be a calling time in the church from 10 to 11am. In Lieu of flowers, donations may be made to the church in Eileen's memory.
Condolences may be sent to ingersollgreenwoodfh.com