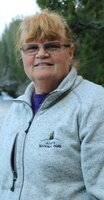 Catherine Matteucci
Catherine Matteucci (1956-2023)
Catherine Matteucci, 66, of North Wildwood, NJ, passed away on Sunday, March 5, 2023. Cathy was born on June 12, 1956, at Mercy Hospital in Sea Isle City, and raised in Overbrook Park, Philadelphia. She was the daughter of Robert Murry and Catherine (née Hardiman) Murry, both who predeceased her.
Cathy spent her summers in North Wildwood. She worked as a Tram Car driver and, in 1983, served the community as a summer police officer, following in a long family tradition in law enforcement. It was there that she met her future husband.
Cathy also had a real skill for art. She attended Pennsylvania Academy of the Fine Arts for time. Later in life, went back to college through Thomas Edison State University to achieve her dream of obtaining her Bachelor's degree in Art, which she did while working a full time job and raising two children.
Cathy would spend most of her career helping young children as a teacher's aide. "Mrs. Matteucci" was the first grade and preschool aide at Saint Anne's Regional School in Wildwood from 1997 to 2006. "Miss Cathy" was then the preschool aide at Margaret Mace School in North Wildwood from 2006 until her retirement in 2019.
Cathy also found great joy in traveling. She loved her annual trips with her sisters and children, most frequently to Bar Harbor, Maine - and her annual cross-country RV trips with her husband and friends to locations such as the Grand Tetons. Her travels brought her to 49 states and 12 countries. Cathy was also a devout Catholic and had a particular devotion to St. Kateri Tekakwitha
Catherine is survived by her husband of 36 years, Robert Matteucci, her children Robert Jr and Catherine (Daniel Murphy), and her sisters Anne (Robert) Hileman and Josephine Murry.
Friends and relatives are invited to call from 7:00pm to 9:00pm on Friday, March 10, at Ingersoll-Greenwood Funeral Home at 1201 Central Avenue, North Wildwood, NJ.
Mass of Christian Burial will be celebrated at 11:00am on Saturday, March 11, at St. Paul's Church, 9910 Third Avenue, Stone Harbor, NJ. Friends and relatives may also call from 10:00am to 10:45am at the church.
Condolences may be sent to ingersollgreenwoodfh.com
Internment will be in St. Mary's Cemetery, Lower Township, NJ, following Mass