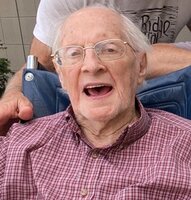 Dominic Camizzi
Dominic Camizzi, 97 of Cape May Court House, NJ formally of Wildwood, NJ peacefully passed away Wednesday, May 24, 2023. Dominic along with his wife Mary owned and operated the Christine Motor Inn in Wildwood, NJ during the 1970's and into the 80's. Dominic was a big sports fan. He loved the Cleveland Browns and watching the Phillies on TV. He enjoyed playing golf with his sons and going to the horse track. Dominic loved classical music and especially opera with Enrico Caruso being one of his favorites. A big fat cigar always put a smile on his face. Dominic's enthusiasm for life was loved by everyone.
Dominic is predeceased by his wife Mary, sons Michael and Francis, sister Mary Triola, brother Frank Camizzi and his grandson Douglas Raucci. He is survived by his children Rosemary Good (Joe Barno), Joseph Camizzi, Andrew Camizzi (Denise), Joanne Raucci (David) and George Camizzi (Eileen), 13 grandchildren, and 16 great-grandchildren. Dominic is also survived by two sisters Theresa Ruschak and Filomena Miliziano.
A mass of Christian Burial will be celebrated 11:00am Tuesday, June 13, 2023 at St. Ann Church, 2900 Atlantic Avenue, Wildwood, NJ where friends may call from 10:00-11:00am at the church. Interment will be in St. Mary's Cemetery, Cold Spring, NJ. In lieu of flowers donations may be made to the Douglas Raucci Forget-Me-Not Foundation, 121 W Forget-Me-Not Road, Wildwood Crest, NJ 08260.
Condolences may be sent to Ingersollgreenwoodfh.com