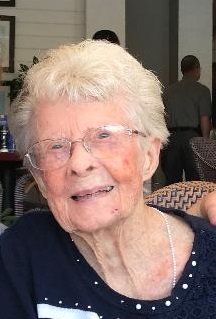 Obituary of Theckla Murphy
Theckla "Mary Jane" Murphy, age 91, passed away peacefully surrounded by her nieces and
best friend's love on Saturday, October 27, 2018 in Jupiter, FL. She was born April 16, 1927 in
Philadelphia, PA to the late Albert E. and Theckla (Haas) Bailie and was preceded in death by
her loving husband of 50 years, Norman "Murph" Murphy, her sister Constance and brother
Albert. Mary Jane is survived by her daughter Beth and two grandsons, Daniel and Patrick,
along with many nieces and nephews. Mary Jane graduated in 1944 from Wildwood High
School. She met the love of her life, Murph, at Wildwood High and married in 1948. Mary Jane
and Murph were best friends who loved each other deeply. They loved to dance, attend local
basketball games, and go to the beach together and with family and friends. Mary Jane was a
devoted wife, mother, grandmother and friend. She was a witty, no nonsense woman who
enjoyed watching comedians, and sporting events, eating good pizza, and drinking iced tea.
Mary Jane was loved by her family and friends and will be missed. The funeral service will be
held Saturday, November 17 at 11 am at Ingersoll-Greenwood Funeral Home at 1201 Central
Avenue, North Wildwood, NJ. The family will receive friends on Saturday from 10 am until the
service at the funeral home. Interment will be in Cold Spring Presbyterian Cemetery, Lower Township, NJ
In lieu of flowers, memorial contributions may be made to provide tuition assistance for
Wildwood Catholic students at Save Wildwood Catholic, Inc., 3200 Pacific Avenue, Wildwood,
NJ 08260 or to help provide college scholarships to students at Wildwood High School through
The Warrior 50 Club, P.O. Box 312, Wildwood, NJ 08260. Condolences may be sent to ingersollgreenwoodfh.com